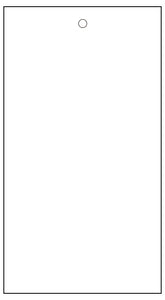 All white chart.  Mis-sized for quick proofing samples.  12 pt cover stock C2S with proprietary sealer covering 100% of one side for a consistent smooth surface for both water and solvent based coatings.
No VOC's in our sealer for a safer environment and no optical brighteners to ensure consistent instrument color readings.
Size: 5 1/2" x 10"
Finish: Hole top center
Quantity per Box: 250
Boxes per Case: 6
Inter Leaf: NA
Bar: SE-905
Learn how to create the perfect drawdown sample in our video tutorial.