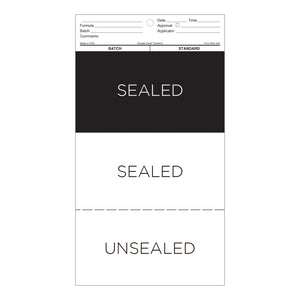 Black & white printed with a sealed and unsealed surface for opacity, color comparison and primed not primed surfaces. If the black and white can be seen after coatings is dry then the coating will not hide at the applied thickness.  Increasing coating thickness until the black & white is not seen determines opacity.
Also used for side by side comparison of two different products at a specific thickness to show hiding.  Used for competitive comparison.
Top 2/3 sealed, bottom 1/3 unsealed.  Unsealed portion represents primed surface that is not primed to represent greater substrate absorption.
12 pt cover stock C2S with proprietary sealer covering 100% of one side for a consistent smooth surface for both water and solvent based coatings. No VOC's in our sealer for a safer environment and no optical brighteners to ensure consistent instrument color readings.
Size: 5 ½"" x 10"
Finish: Hole top center for drying – printed header for notes
Quantity per Box: 250
Boxes per Case: 6
Inter Leaf: SE-029
Bar: SE-905
Learn how to create the perfect drawdown sample in our video tutorial.