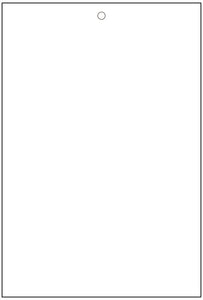 All white chart.  Most commonly used in all paint application for full sized color samples.  Used in paint laboratories, stores and with designers and architects. 
12 pt cover stock C2S with proprietary sealer covering 100% of one side for a consistent smooth surface for both water and solvent based coatings.
No VOC's in our sealer for a safer environment and no optical brighteners to ensure consistent instrument color readings.
Size: 7 5/8" x 11 1/4"
Finish: Hole top center
Quantity per Box: 250
Boxes per Case: 4
Inter leaf: SE-029
Bar: SE-903
Learn how to create the perfect drawdown sample in our video tutorial.