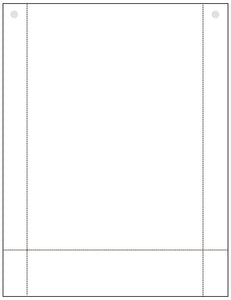 All white chart that is perforated on three sides.  Paint is drawndown covering entire surface inside the perforation. When perforations are removed, the coating bleeds on three sides.  Ideal for comparing the color to other paint, fabric, carpet or any other sample or surface.    
12 pt cover stock C2S with proprietary sealer covering 100% of one side for a consistent smooth surface for both water and solvent based coatings. No VOC's in our sealer for a safer environment and no optical brighteners to ensure consistent instrument color readings.
Size full size: 10" x 13"
After perforations removed: 7 1/2:" x 11 ¼"
Finish: Two holes upper corners
Quantity per Box: 250
Boxes per Case: 4
InterLeaf: SE-029
Bar: SE-960
Learn how to create the perfect architectural tear chart drawdown sample in our video tutorial.